The Best Injury Lawyers Bloomington IL Meet This Criteria
Experienced. At least 10+ years.
Proven Track record. Won multiple injury trials and at least $100 million for their clients.
Local. Live and work in Bloomington-Normal.
Client Satisfaction. Very few negative Google reviews and 50+ positive reviews.
Call 309-828-5090 or click here to schedule a free appointment today with one of the Best Injury Lawyers Bloomington IL.
Injury cases require a very skilled lawyer to maximize compensation. You need an injury lawyer with significant experience, who does everything in their power to efficiently obtain a good settlement, and will powerfully present your claim to a jury if the case goes to trial. Car insurance companies and other insurers often do not offer a fair settlement to the injured person. When this happens, it is essential to have an injury lawyer who is willing to go to trial and has a proven track record of winning.
Unfortunately, many injury lawyers try to avoid trial because they do not want to incur the expense of handling a time-consuming trial. Most injury victims do not know when they sign a retainer agreement with a law firm that their injury attorney may only be interested in negotiating a settlement for them but will not go to trial.

If the car insurance company will not offer a fair settlement, the lawyers who are unwilling to go to trial often try to talk their clients into accepting the offer anyway and if the client refuses, then they withdraw from the case or refer the case to another law firm. The insurance companies know which law firms won't go to trial so they offer lower settlements when those attorneys are handling the case.
If you have been injured and need an injury lawyer, you need to meet with a lawyer who has significant experience successfully litigating several injury cases. When you meet with that attorney, ask questions and make sure you feel confident that they will be by your side every step of the way and take your case to the finish line if necessary.
There Is No Quick Way To Evaluate The Best Injury Lawyers Bloomington IL
Obviously when you googled "Best Injury Lawyers Bloomington IL" (or something like that), you were hoping for a an easy way to evaluate injury lawyers in Bloomington IL and pick the best one. Sorry to disappoint you, but you are going to have to do some homework.
Conducting a Google search for "Best Injury Lawyers Bloomington IL" is step one though, so you are in the right place. The Google search results will show you several directories which list the top local lawyers in Bloomington-Normal IL on their websites such as FindLaw and Expertise. This is a good starting point to find a lawyer. However, you may want to also read the law firm's Google reviews and website. Google reviews can tell you a lot about a law firm's track record and how they treat their clients.
If You Are Looking For The Best Injury Lawyers Bloomington IL, Consider Koth Gregory & Nieminski
Free Consultation. No charge to discuss your claim.
You don't pay us unless we win your case.
Convenient Appointments. In-home, phone, zoom, or at our office.
Proven track record. Over $130 million for our clients.
Local. Bloomington-Normal is our home and we protect our people.
Client Satisfaction. See our Google Reviews and Testimonials.
The injury lawyers at Koth Gregory & Nieminski (KGN) have over 80 years of combined experience representing injury and accident victims throughout Illinois. The attorneys and paralegals at KGN have lived in Bloomington IL or the surrounding area for all or most of our lives, so it's personal for us when someone from our community is injured.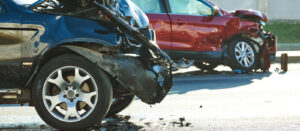 We fight for the people in central Illinois every day to get them the compensation they deserve. Since opening in 1990, KGN has achieved enormous success both at trial and in negotiations.
KGN handles injury claims on a contingency fee basis, which means you do not pay our office unless your case is successful. Call 309-828-5090 or click here to schedule a free, no obligation consultation with one of our seasoned personal injury lawyers. If you want to learn more about why it is better to hire a local lawyer for car accident injuries in Bloomington IL, then click here.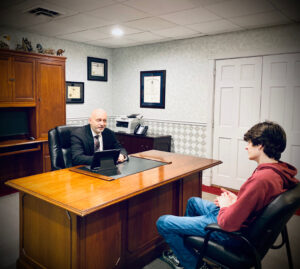 Our office is located in downtown Bloomington IL, but we also handle injury cases outside of McLean County. We often represent clients in the neighboring communities of Peoria, Pekin, Pontiac, El Paso, etc. so we frequently go to court in Peoria, Tazewell, and Livingston county. We offer appointments over the phone and via zoom so even if you are an hour away from our office in Bloomington, don't let the distance bother you. Finding an experienced injury attorney who cares is worth it.
Motivation Is A Big Factor For The Best Injury Lawyers Bloomington IL
Helping people is our primary motivation. We offer free consultations and work on a contingency fee for personal injury, car accident, workers' compensation, and wrongful death cases because we empathize with people injured by someone else's negligence. In our decades of experience handling injury and death cases, we have seen countless clients struggle to work and pay their bills because of the incident, which is why we do everything we can to reduce the financial burden on them.
We also strive to make appointments convenient and effective for our clients. To learn more about the initial consultation process, click here. For more information regarding Injury Law and the other issues that may be involved in your case, click here.
We believe it is important for injury victims to consult with one of the best injury lawyers Bloomington IL to understand the law in Illinois and how the facts of their situation may play out in negotiations and court. However, there are also several resources available with general information on personal injury cases such as the article posted by the ABA (American Bar Association Injury Law Articles).
Disclaimer:
The intent of this Article (10 Best Injury Lawyers Bloomington IL) is to provide general information and should not be construed as legal advice. The Law Firm of Koth, Gregory & Nieminski, P.C. (KGN) does not represent/guarantee that the information in this Article is current and the information is provided as is without any representation/warranty as to whether the information is current and without any representation/warranty as to applicability, reliability, merchantability, fitness, non-infringement, result, or any other matter.
The existence of the Article , receipt of its information, and/or comments/questions do NOT create an attorney-client relationship between KGN or any of its attorneys. Please do not send KGN any confidential material or information. Viewers of this Article should NOT act/refrain from acting based on information contained in this Article and KGN expressly disclaims all liability for actions/failures to act based on this Article.
Call 309-828-5090 or click here to schedule an appointment today.