If you are seeking a lawyer for car accident injuries in Bloomington IL, it is best to find a local attorney who has a good reputation for helping others who also had bad car accident injuries. This article will explain why choosing a local lawyer with a good reputation is so important and the best ways to determine:
Whether the lawyer is truly local; and
Whether the lawyer has the skill set to win your case.
WHY YOU NEED A LOCAL LAWYER FOR CAR ACCIDENT INJURIES IN BLOOMINGTON IL
Cares more
Has more to lose
More familiar with the judge
Selects a better jury
Obtains witness cooperation
MORE LIKELY TO CARE ABOUT YOU
Some of the most frequent complaints from unsatisfied clients is that they hired a big law firm and the lawyer who was assigned to their case was unresponsive, didn't care about their situation, and was all about the money and convenience. A local lawyer for car accident injuries in Bloomington IL is more likely to care about you personally because you are part of his/her community.
Koth Gregory & Nieminski (KGN) was founded in 1990 by Douglas Koth. The firm has been in the same building in downtown Bloomington IL since it opened. It is a second-generation family owned and operated law firm, which was managed by Douglas Koth until 2019 when his son Dustin Koth took over as managing partner.
Dustin Koth grew up in Bloomington-Normal. Dustin grew up working at Koth Gregory & Nieminski and attending local events. He personally knows many of the judges, doctors, and others in the community who can impact the success of injury cases. Dustin has devoted his career to helping the injured people in his hometown. So if you are searching for a local lawyer for car accident injuries in Bloomington IL, there is no one more dedicated to helping local injury victims than Dustin Koth.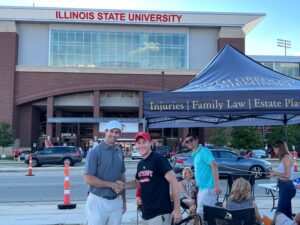 A LOCAL LAWYER FOR CAR ACCIDENT INJURIES IN BLOOMINGTON IL HAS MORE TO LOSE
If the case has a negative outcome, a local lawyer's reputation may suffer. Unsatisfied clients can leave negative google reviews and tell others in the community about their bad experience.
However, bigger firms from other areas are not as concerned about their reputation in your local community. These out-of-town firms typically have multiple google business pages where reviews can be left so they are often able to hide the bad reviews from many prospective clients.
JUDGE FAMILIARITY
Understanding the tendencies of the judge handling your injury case can be helpful. While it is the jury that determines the outcome in an injury case, the judge still has an important role. A local lawyer should be able to better predict which types of objections, jury selection tactics, jury instructions, and witness testimony the judge will allow or overrule.
SELECT A BETTER JURY
If the case goes to trial, the jury decides how much money to award the injury victim. The jury will be comprised of people who live in that county. A local lawyer for car accident injuries in Bloomington IL will better understand the people from his/her community.
WITNESS COOPERATION
A local lawyer may have an easier time getting witnesses to testify in your case. Out-of-town lawyers often struggle with this because many witnesses don't want their lives interrupted by a deposition or trial, especially when there is no benefit to them.
Your case may require your lawyer to obtain witness testimony from someone who saw the accident, the doctors who provided you medical care, other medical experts to corroborate your treating physician's testimony, and an accident reconstructionist to provide imagery of how the accident occurred.
Without the cooperation of these witnesses, the likelihood of winning your case or getting the amount of compensation you deserve could dramatically decrease. At Koth Gregory & Nieminski, we have a high success rate with witness cooperation.
Since most of our staff is from here and we have handled numerous injury cases in McLean County since 1990, witnesses typically want to help because they know someone at KGN personally, know we have a reputation for helping people locally, or know that we get results, so they realize that we are not going to let them play games.
Schedule an appointment today with a Lawyer For Car Accident Injuries In Bloomington IL or click here for more information to help you determine the best injury lawyers in Bloomington IL, .
HOW TO TELL IF THE LAWYER IS TRULY LOCAL
Many law firms have several locations and hold themselves out as having their main office near you. The problem is that their "local" office may be a satellite office.
BEST WAY TO DISCOVER WHETHER THE LAWYER HAS MULTIPLE OFFICE LOCATIONS 
The best way to know whether the law firm has multiple offices is to check out their google business page(s). If you go to Google and type in the name of the law firm followed by your town/city, you can see their Google business page. If you open a new tab in your browser and enter the law firm name again, but then enter different cities throughout the state, you will see their other locations.
For example, KGN only has an office in Bloomington IL. However, for some of the other firms with a satellite office in Bloomington IL, their main office may be located in Chicago, Peoria, Springfield, Champaign, Decatur, etc..
BEST WAY TO DISCOVER THE LAWYER'S MAIN OFFICE
Once you have determined that the firm has multiple offices, the best way to know whether their main office is in your town/city is to compare the number of Google Reviews at each location and look at the images of their offices.
The location with the most Google reviews is likely their main office. Also, while nearly every successful law firm will have a nice store front with a sign displaying the name of their firm, the firms with multiple locations typically invest the most money into the façade of their main office.
If the law firms you are searching don't have a store front in your town/city with a nice sign displayed on the outside of their building, then they are likely renting a smaller office inside of a building and using it as a satellite office. This may not seem like an important factor, but a lawyer for car accident injuries in Bloomington IL is more likely to be truly committed to helping local injury victims if they have invested significant resources into establishing a local presence.
DON'T SETTLE FOR THE "SATELITE OFFICE LAWYER" 
In addition to the reasons discussed above for needing a local lawyer for car accident injuries in Bloomington IL, another problem with choosing a law firm with a satellite office in your town/city is that the best attorneys in the firm don't work there. Your case may be assigned to a lawyer with less experience or who lacks the qualities necessary to deliver a powerful winning argument.
The satellite office also may also not have any lawyers who actually work in that office or live in that area. Many law firms use satellite offices to give off the appearance of being local, but in reality, they have one or more of their lawyers travel to each satellite office weekly or monthly to meet with all the clients in that area.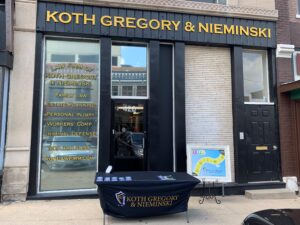 WHETHER THE LAWYER WILL WIN YOUR CASE
Ask yourself the following questions when deciding whether a lawyer for car accident injuries in Bloomington IL will win your case:
Does the law firm have a lot of positive Google reviews?
What are the problems past clients identified in the negative Google reviews?
How big is the law firm?
What is the lawyer's motivation?
Does the lawyer have skills to win?
GOOGLE REVIEWS
Google reviews can be very helpful. In the modern world, it is a red flag if the law firm does not have several Google reviews. Ideally, the law firm you choose would have several positive and recent reviews. This shows the firm is actively doing a good job representing other people in the area like you.
The default on Google is to sort reviews by Most Relevant. You can also sort by Lowest and Newest. To review the worst reviews, sort by Lowest. To review the most recent reviews, sort by Newest.
A couple bad reviews may not be a big concern since some clients do not fully understand the time and cost of the legal process and thus may be difficult to please or may have unreasonable expectations.
However, if there is a pattern of unresponsiveness, being motivated solely by money, lacking empathy, or a lack of professionalism, etc., then there may be a legitimate issue and you should not disregard the opinions of those past clients because you may have the same negative experience.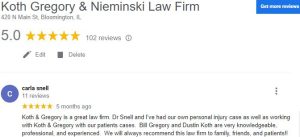 HOW BIG IS THE LAW FIRM?
 A solo practitioner is not usually a good option because if anything happens to them, your case is in jeopardy. Whether they get sick, retire, die, or are simply overwhelmed by too many cases, a solo practitioner cannot give you adequate assurances that he/she will take your case to the finish line.
Even firms with two lawyers and a couple paralegals struggle to meet clients' needs. You want your lawyer for car accident injuries in Bloomington IL to be local, but not too small.
Large law firms also face challenges that often make it different to best serve their clients' needs. The common issues with the larger firms is that they frequently lose the personal touch. They have automated phone systems, your lawyer changes multiple times during the case, and if your case isn't going to make them money, then their motivation drops or they cease representing you. These criticisms are based on what personal injury clients from these larger firms said in Google reviews.
The Goldilocks Zone… As the childhood tale says, in the middle is just right. A mid-sized firm provides the best assurances of your case being handled competently with a personal touch from start to finish by an experienced lead attorney with a couple other attorneys able to assist when necessary.
Koth Gregory & Nieminski is a mid-sized firm. We have four lawyer for car accident injuries in Bloomington IL with 10-35 years of experience as well as several paralegals. We have a fantastic receptionist to greet you in-person or on the phone. We also have two other intake people to answer calls when the receptionist is unavailable.
WHAT IS THE LAWYER'S MOTIVATION?
Unfortunately, many lawyers are primarily motivated by money or convenience. At Koth Gregory & Nieminski, our main goal is to help people in Bloomington-Normal and the surrounding area.
As a business that has stood the test of time since 1990, we have found that being a successful law firm is a by-product of hiring good people, providing a quality service, and implementing streamlined processes. By doing these things, we have been able to accomplish our goal and help thousands of people in our community.
Our core values at KGN are Experience, Empathy, and Efficiency. The motivators that allow us to live up to our core values are Faith, Family, and Friendship. We strongly believe that our solid foundation will allow us to continue to successfully serve the people in Bloomington-Normal and the surrounding area for decades to come.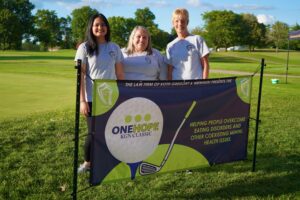 DOES THE LAWYER HAVE THE SKILLS TO WIN?
Ultimately, you want to choose the lawyer for car accident injuries in Bloomington IL who gives you the best chance to win your case and leave you with the most money as compensation for your injuries.
You should feel confident that your lawyer has the demeanor and skills to deliver a powerful winning argument to a jury. While most cases do not go to trial, having an attorney with significant experience wining jury trials for injury victims is essential.
Sadly, many law firms refuse to go to trial. Ask your injury lawyer during the initial consultation if he/she is willing to take your case to trial. It may be too early to guarantee it, but the attorney should be able to tell you that if the insurance company does not offer a fair settlement, then he/she will fight to obtain a better verdict at trial.
The lawyer you choose should have both the passion to aggressively fight for you while also having a calming presence so that the judge and jury view your cause favorably.
Being likeable is important. Remember, the lawyer is representing you, so how they conduct themselves is a reflection on you and can determine how much compensation you receive. Click here to schedule a free, private, no obligation meeting with an experienced local lawyer for car accident injuries in Bloomington IL.
Related Topics:
Personal Injury | How To Win An Injury Case | Do I Have A Good Injury Case? | Best Lawyers Bloomington IL