Trying to decide which divorce lawyer to choose can be challenging. When evaluating which attorneys are the "Best Divorce Lawyers Bloomington IL", you should consider several factors.
The Best Divorce Lawyers Bloomington IL Have Extensive Experience, Wisdom, And Passion
One of the first questions you need to ask yourself is whether your divorce involves contested issues. If there are contested issues in your divorce case, it is important to hire one of the best divorce lawyers Bloomington IL with extensive experience who will fight for you with passion.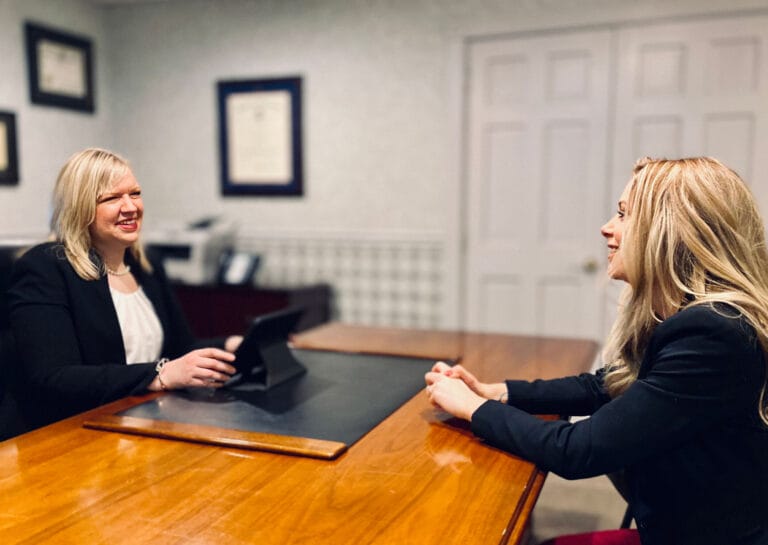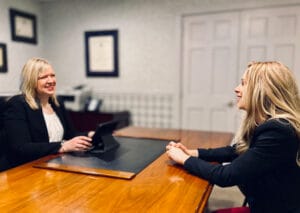 Why Clients Choose Koth Gregory & Nieminski
Experience/Wisdom. 80+ years of combined experience.
Passion. We fight for our clients like it's our own case.
Client Satisfaction. See Google Reviews.
Convenient Appointments. Same-Day Self-Scheduled Appointments at our Office, by Zoom, or Phone.
Family Law Software. We have the best child support and alimony calculation software, which lowers your costs.
Resources. We purchase the top family law books, attend the most prestigious seminars, and have more experience locating hidden assets than any other law firm in central IL.
Second Generation Family-Owned Law Firm. Established in 1990 and located in our original downtown Bloomington office.
Attorney Fee Transparency. $300 initial consultation fee. Retainer fee discussed at the initial consultation.
Schedule a meeting with our top divorce lawyer today directly through our online appointment calendar.
Married for Several Years or Have Significant Marital Assets?
If you and your spouse have been married for many years or have a lot of shared marital assets, then you may want to read about the importance of hiring a High Profile Divorce Lawyer Bloomington IL with experience handling the most sophisticated divorce cases.
The additional experience of a high profile divorce lawyer is especially helpful if you have significant assets. Couples with a high net worth will likely have issues in their divorce case that are intensified by their status. Thus, hiring one of the best divorce lawyers Bloomington IL is essential. A more experienced divorce lawyer can help you navigate these issues as well as the other areas of law and finance that will be involved in your case.
Experience, wisdom, and passion are good qualities to look for in any lawyer, but these qualities are essential in divorce cases when the parties disagree on major issues such as asset division, alimony, child custody, or child support.
Contested Divorce – How To Find The Best Divorce Lawyers Bloomington IL
Unfortunately, there is no short cut that gives you a list of the 10 Best Divorce Lawyers Bloomington IL. In our decades of experience, we discovered that many people search for this type of list, but the reality is that determining the Best Divorce Lawyers Bloomington IL requires some homework.
The first step is to type a relevant search phrase into Google, such as, "Best Divorce lawyers Bloomington IL".
There are several directories such as FindLaw and Expertise which list the local divorce lawyers in Bloomington-Normal IL on their websites. This is a good starting point. However, before choosing an attorney, it may also be helpful to read the law firm's Google reviews and website.
It is a red flag for a law firm to have several negative reviews, especially if the reviews are specific about the issues the client had with the divorce lawyer.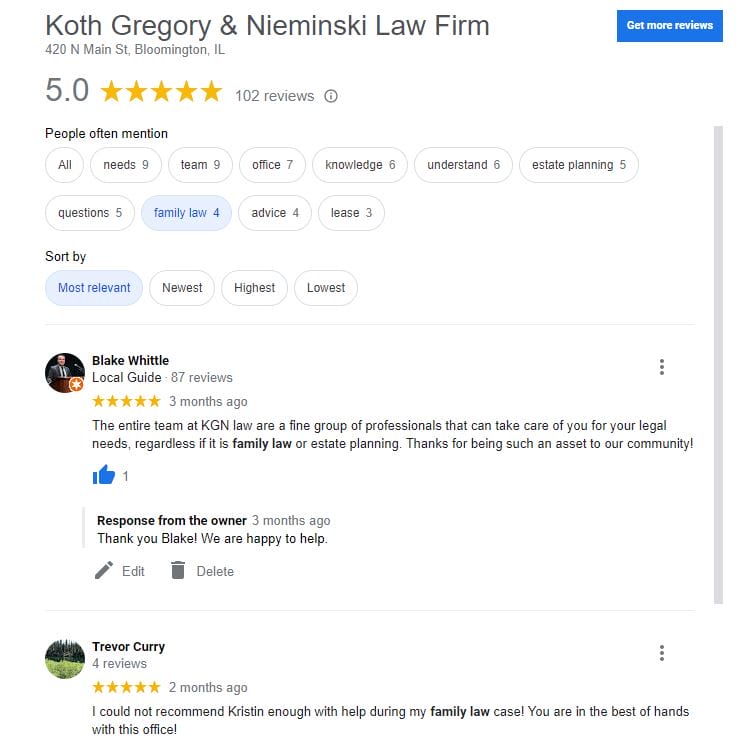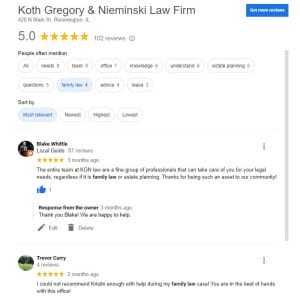 So How Do You Know Which Divorce Attorneys Are Truly The Best In Bloomington IL?
As stated above, you have to do your homework! You need to research the law firms in the Bloomington Normal area that hold themselves out as having extensive experience handling divorce cases. However, not all "experience" is equal. There is a big difference between knowledge and wisdom. Many divorce lawyers have knowledge, but the best divorce lawyers Bloomington IL have wisdom. Wisdom requires the ability to effectively apply the knowledge from your experience to your client's advantage.
There is also a big difference between delivering an aggressive argument and delivering a powerful argument. Many lawyers advocate aggressively, but the best divorce lawyers Bloomington IL can artfully deliver powerful arguments. The most powerful arguments are delivered by attorneys who understand when to be agreeable versus when to fight and emphasize key points.
When you first meet with a divorce lawyer, ask questions and make sure you feel confident that they will take the time to understand the issues that are most important to you and fight for you with wisdom and power, not just knowledge and aggression.
Koth Gregory & Nieminski Is One Of The Most Prominent Family Law Firms In The Bloomington-Normal Area
The divorce and family law attorneys at Koth Gregory & Nieminski (KGN) have over 80 years of combined experience. We have been helping families since 1990 and we believe our clients' Google Reviews speak volumes.
The attorneys and paralegals at KGN have lived in Bloomington or the surrounding area for all or most of our lives. We care about the families in our community that are impacted by divorce, so we fight for our clients like it's our own case because it's personal for us.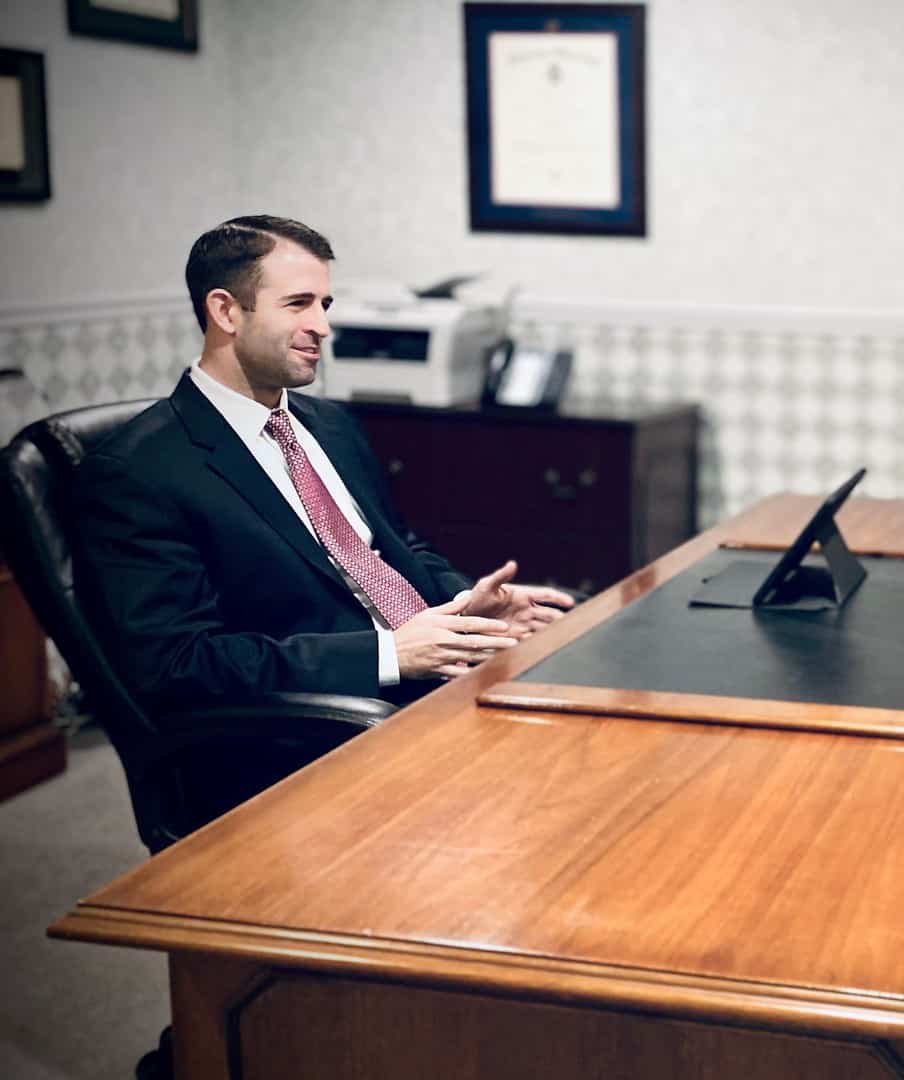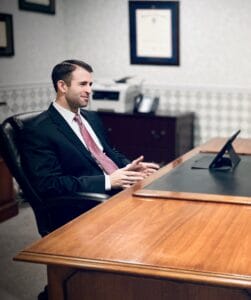 Convenient Appointment
Scheduling
We offer convenient appointments at our office, via zoom, or over the phone. If you are ready to take the first step, click meet with a KGN Divorce Lawyer Bloomington IL.
We charge $300 for the initial consultation and the retainer fee will be discussed during that initial meeting.
Our office is located in downtown Bloomington IL (420 N Main St Bloomington IL), but we also handle divorce cases outside of McLean County. We often represent clients in the neighboring communities of Peoria, Pekin, Springfield, Decatur, Champaign, Pontiac, El Paso, and other nearby towns.
We typically encourage people to choose a local lawyer but we understand how difficult it can be to find a good lawyer who cares so we enjoy helping people throughout Central IL.
This article mostly focuses on contested divorce, but our family law experience is diverse so you can schedule an appointment with our office for any type of case.
Whether it be uncontested divorce, adoption, drafting prenuptial agreements, etc., we do it all. The diversity of cases we handle is one the primary reasons KGN is considered to have the best divorce lawyers Bloomington IL has to offer. Having experience with all the issues that could come up helps us see the big picture and be ready for anything.
What To Expect During The Initial Appointment With A Divorce Lawyer
The initial meeting with a divorce lawyer can be emotional for many people. Below are some tips to help you get the most out of the meeting.
BRING A LIST OF THE MOST IMPORTANT FACTS (SEE EXAMPLES BELOW)
Where do you and your spouse work?

What are your annual incomes?

Provide your children's names and ages

How much time do you and your spouse spend with your children?

Identify your most valuable property

Identify any abuse (physical, sexual, emotional, drug, alcohol, etc.)
BRING A LIST OF QUESTIONS (SEE EXAMPLES BELOW)
What do you need from me?

What type of evidence should I gather?

How much does a typical divorce cost?

Should I try to get an order of protection against my spouse?

Next Step After The Initial Appointment
After the initial appointment, you should have answers to your questions and feel like the lawyer was knowledgeable, understanding, and will represent you well. Many people think that the divorce case is filed immediately after the client meets with their attorney for the first time. In reality, clients usually need to gather additional documents first or emotionally prepare themselves for what lies ahead.
Once you have your documents in order and you are emotional prepared, then your divorce lawyers Bloomington IL can file the petition to dissolve the marriage.
Grounds For Divorce
In order to file for divorce in Illinois, either you or your spouse need to be a resident of Illinois at least 90 days prior to filing for divorce.
It is also important to remember that Illinois is a no-fault state. Fault-based grounds (i.e. adultery, mental or physical cruelty, or abandonment) for a divorce in Illinois have been abolished. The grounds for divorce are now based on "irreconcilable differences". This is good news for you and your divorce lawyers Bloomington IL because you do not have to go through a long hearing to prove grounds for divorce.  This saves you time and money.
You can obtain a divorce in Illinois if the court finds that irreconcilable differences irreversibly caused your marriage to breakdown and you have either attempted to reconcile or attempting to reconcile would be futile and not in your family's best interest.
Do not spend time worrying about meeting the "irreconcilable differences" standard. This is easy for your divorce lawyers Bloomington IL to prove. The judges in McLean County Illinois are not going to prohibit you and your spouse from getting a divorce, even if one of you wants to remain married.  
If you have lived "separate and apart" from your spouse for at least 6 months before the entry of judgment, then there is an irrebuttable presumption of irreconcilable differences. You may live in the same house, but in separate parts of the house (i.e. one spouse lives in the basement and other spouse lives upstairs in master bedroom) in order to be considered living "separate and apart".
Common Contested Divorce Issues
The most common issues requiring the assistance of one of the best divorce lawyers Bloomington IL include:
Property Division

Alimony (Maintenance)

Child Custody 

Child Support
Property Division
First, it is important to understand what the judge will consider to be marital property versus non-marital property. If the property is marital, then it can be divided in the divorce. However, courts may not divide non-marital property.
If you do not know about all of your assets, most likely you will need to go through the discovery process. 
Property Division Discovery Options
Discovery may consist of the following options:
Request to Produce

Interrogatories

Request for Admissions

Subpoenas for documents

Depositions. 
It is good for clients to understand the types of discovery options because they know their spouse's tendencies, which can help their divorce lawyers Bloomington IL determine which discovery methods are best for their case.
Discovery Option 1 – Request to Produce
Requests to Produce are formal written requests in which one party asks the other to provide certain documents, recordings, reports, etc. for inspection that are relevant to your case.
Example:
"A copy of all documents reflecting all sources of income paid to or received by Respondent for the last three calendar years to present date, including (but not by way of limitation): pay stubs, copies of check, letters regarding pay amounts, expense checks, W-2 forms, 1099 forms, K-1 forms, Board of Directors' fees, rental income, royalty income, dividend income, interest income and all other forms of income."
Discovery Option 2 – Interrogatories
Interrogatories are formal written questions that one party asks the other to answer and attest to the answer that are relevant to your case.
Example:
"During the preceding three years, have you had any account or investment in any type of financial institution, individually or with another or in the name of another, including checking accounts, savings accounts, certificates of deposit and money market accounts? If so, with regard to each such account or investment, state the following:
The type of account or investment;

The name and address of the financial institution;

The name and address of each person in whose name the account is held; and

Both the high and the low balance of the account or investment, stating the date of the high balance and the date of the low balance.
Discovery Option 3 – Request for Admissions
Request for Admissions are formal written requests to admit relevant facts in your specific case that one party asks the other.  If the relevant facts are admitted to, it may save you both time and money because you then do not have to prove the admitted facts at a hearing.
Example:
"That Respondent withdrew $20,000.00 from the parties' joint bank account ending in 4240 on March 20, 2021 to pay for his and his girlfriend, Jane's, vacation to Cancun, Mexico."
Discovery Option 4 – Subpoenas for Documents
Subpoenas are written demands directed to third parties who are not named in your divorce case such as to a bank, financial institution, corporation, employer, etc. With respect to financial information, the subpoenas for documents may request documents about your spouse's assets, income, business interests, etc. Subpoenas are a very useful tool to uncovering hidden assets. 
Discovery Option 5 – Depositions
Depositions are formal testimony taken outside of court, which is transcribed by a court reporter. The court may consider the information from depositions at a hearing.
Depositions can be another useful discovery tool depending on the circumstances in your divorce case.
For example, you may want to depose your spouse which means that on a specific date and time your spouse is placed under oath and asked questions by your divorce attorney as well as your spouse's divorce attorney regarding his knowledge of certain facts with respect to the issues in your case (i.e., his income, business endeavors, property ownership, assets, etc.).
Regardless of the discovery method(s) you and your divorce lawyers Bloomington IL use, knowing all of the property your spouse has is important. Once you have a complete picture of your spouse's property, then your divorce lawyers Bloomington IL can address which property was obtained by your spouse pre-marriage versus post-marriage.  
As mentioned earlier, in Illinois property obtained pre-marriage is typically considered non-marital property, and everything obtained after the couple is married is marital property. However, exceptions and gray areas exist, making it important to hire one of the best divorce lawyers Bloomington IL to ensure your rights are protected.
Marital Property Exceptions And Gray Areas
Gifts

Inheritances

Prenuptial Agreement

Postnuptial Agreement

Comingling Income/Accounts

Time Investments

Adding Value To Existing Asset

Retirement Accounts